2017 Hiring Trends Report
3rd Annual Hiring Trends Report
This year's survey was designed to gain a better understanding on what IT Professionals are thinking about their past, current, and future positions with two primary purposes:
A competitive overview regarding compensation: Are businesses still increasing their budgets to secure the best talent?
What changes and/or enhancements should an organization consider to attract quality talent to fill current and future IT vacancies?
A glimpse of what's in the report — what's motivating a job change in 2016 vs 2017.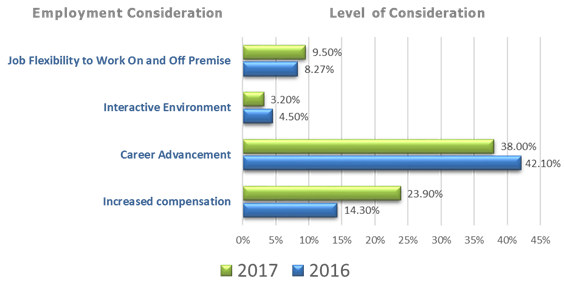 This paper will provide you a summary of key learnings extracted from our most recent 2017 hiring report, including:
Current Compensation and Benefit Trends
IT Hiring Forecasts
IT Compensation:National Index vs. Greater Chicagoland
Top 3 Candidate Priorities in Accepting a New Position
The Most Difficult Skill Sets to Hire
Get the Report