2017 Hiring Trends Report
3rd Annual Hiring Trends Report
This year's survey was designed to gain a better understanding on what IT Professionals are thinking about their past, current, and future positions with two primary purposes:
A competitive overview regarding compensation: Are businesses still increasing their budgets to secure the best talent?
What changes and/or enhancements should an organization consider to attract quality talent to fill current and future IT vacancies?
A glimpse of what's in the report — what's motivating a job change in 2016 vs 2017.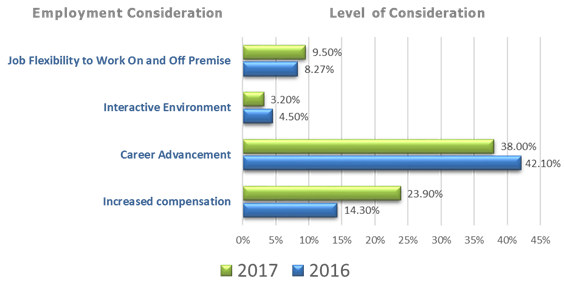 This paper will provide you a summary of key learnings extracted from our most recent 2017 hiring report, including:
Current Compensation and Benefit Trends
IT Hiring Forecasts
IT Compensation:National Index vs. Greater Chicagoland
Top 3 Candidate Priorities in Accepting a New Position
The Most Difficult Skill Sets to Hire
Get the Report
Complete the form below and we will email you your copy of the CultureFit 2017 IT Hiring Trends Report.