Want to Define Company Culture? Look at Your Top Performers
The People Moving Your Organization Forward Are Also the Ones That Define It
Every organization in every industry — from small companies with less than 10 employees to enterprise organizations with multiple offices around the globe — has an employee base comprised of different calibers of employees. These range from those with moderate levels of motivation to those who just about make the stars align in everything they accomplish.
The latter are the employees that embody your organizational values: the attributes that define who your company is, what it believes and does, and how it functions. These are the individuals that you need to focus on when defining your company culture.
That's not to say that other employees don't make a contribution, but your top performers are the ones whose actions and values result in the business achieving goals and creating a positive impression in the minds of your customers. And so, they're the ones that must be evaluated in order to define company culture.
How to Define Company Culture Through Your Top Performers
Your first step is to determine how you're going to identify your top performers. You may already have an idea of who they are based on working with them, but it's worth using data to identify additional top performers that you may be unaware of.
If your company has a performance management, time tracking, or other HR- or project management-related system in place, pull a report appropriate to your team in order to determine who has gone the extra mile, achieved more in less time, or otherwise performed well through a metric relevant to your business and production model.
Keep in mind that your final list of top performers shouldn't just be technology-focused. Add top performers from every department as applicable. That said, you should weigh the number of top performers identified by department according to what your business does. If you're a technology company, it makes sense to have anywhere from 25 to 50 percent more employees identified from technology-related departments, as these will be larger concentrations of people who carry more weight on business success.
With your top performers identified, you can take any separate or combination of steps from here to determine the attributes that define your company. Consider working with a professional services company that specializes in organizational development or — even better — a technology-focused recruiting and staffing firm to assess your top performers, and identify those attributes that define company culture.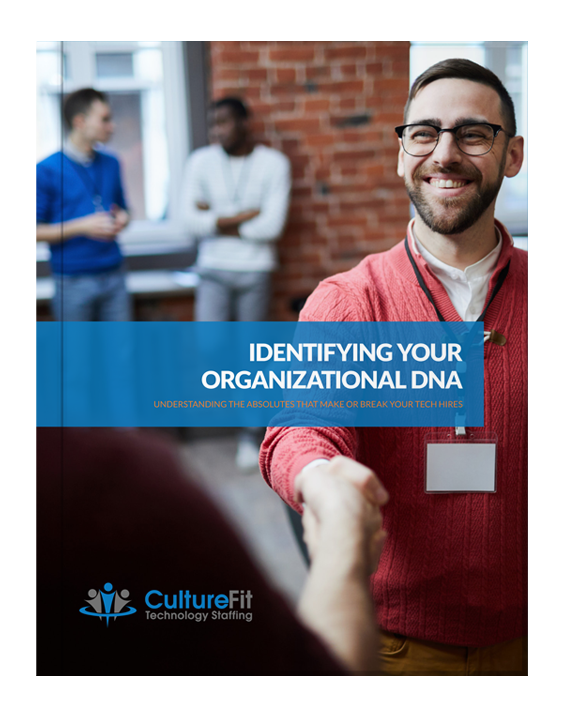 Discover Your Organization's DNA to Attract and Retain Tech Talent
Download our free eBook on what organizational DNA is, why it matters, and how to determine your own for hiring success.
Download Now
Once You've Defined Company Culture, Don't Keep It Hidden
After your top performers have been identified, the worst thing that you can do is keep that information private. Share it with your team! Often, a great way to do this is at a culture-related event, an annual party, or an awards event. But you don't need a "right moment" to share the things that define the company. Present it at any time you feel comfortable. This could be in a monthly team meeting. Make sure that the information is available at all times.
This has a few immediate perks: new employees will identify with your cultural attributes and know from the start who your organization is, where you're going and how, and what is expected of them along the way.
Current employees will also now have a banner to rally around and align their efforts. Collectively, these values will unite new and current employees alike, ensuring you're able to make continual, uninterrupted progress toward your goals.
Work with Proven Experts to Define Company Culture
At CultureFit, we've been helping technology companies identify, hire, and retain the best talent for their open positions for more than 20 years. By focusing on culture over experience, we've helped companies of all sizes — from startups to companies on the Fortune 250 — achieve everything from identifying new leaders to building world-class tech teams from scratch.
Download our latest eBook to learn more about how to identify your company culture.