Nearly 100% of All Tech Professionals are Gainfully Employed
If you have open technology positions to fill in 2018, you might find it difficult to find the right talent willing to consider a move as the most current unemployment rate is holding steady at 2.5% according to the Bureau of Labor and Statistics (BLS).  That's nearly half of the general unemployment rate reported in October – 4.1%.
Another translation for an unemployment rate this low – 0% unemployment, meaning the only labor that is not employed have chosen not to be employed. Great news for the skilled talent in the IT category, a continuing challenge for almost all businesses requiring IT/Techology support.
Critical data released from the BLS regarding the tech sector:
Employment of computer and information technology occupations is projected to grow 13 percent from 2016 to 2026, faster than the average for all occupations. These occupations are projected to add about 546,100 new jobs. Demand for these workers will stem from greater emphasis on cloud computing, the collection and storage of big data, and information security.

The median annual wage for computer and information technology occupations was $82,860 in May 2016, which was higher than the median annual wage for all occupations of $37,040.
As demand continues to escalate so to do the average wages associated to these lucrative careers.  The chart below provides a glimpse into the future regarding demand: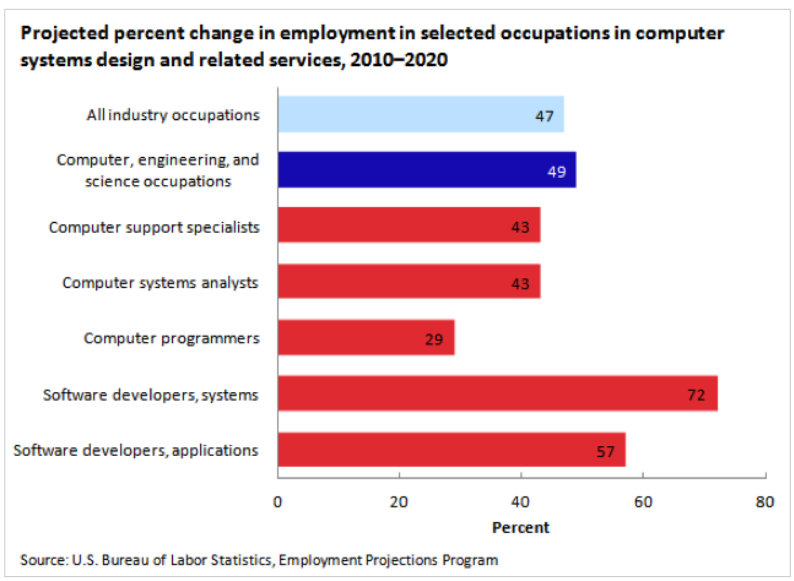 Growth rate and wages don't necessarily correspond, but the growth rate is a good indicator of how to budget over the next 12 months.  According to Eric Edelsberg, Director of Staffing at CultureFit, "There is no other employment category that comes close to what we've seen in technology.  The latest projections have nearly 300,000 open and unfilled technology positions. With that many positions open, competition will be incredibly high, and budgets should reflect this if you are planning on filling those voids with the right technologists.  CultureFit is accustom to dealing in this ultra-competitive space and can help our clients attract this talent."
The technology recruitment service has clearly benefited from the accelerated growth; however, the secret to success is the depth of the candidate database, and placing as much customer care emphasis on the candidates as a firm would provide to support their clients.  CultureFit makes a concerted effort to balance both groups of customers, as well as staying ahead of the trends to provide an extra level of support through both planning and offer negotiations.
CultureFit and Advance Search bring a combination of over 25 years of IT Recruitment; entrusted to hire and place IT professionals throughout the Greater Chicagoland and Milwaukee area. Each year, they're charged to recruit, negotiate, and place 100's of open positions with quality talent that meet skill set requirements as well as compliment an organization's culture.  Their unique position has afforded them the opportunity to identify hiring trends from both the organization and the talent's perspective.